Location
Address

Souunkyou Onsen Kamikawa-cho Kamikawa-gun

Parking lot(Free of charge)

100 cars

Phone number
Overseas
+81-1658-5-3911
Total number of the guest rooms
188 rooms
Domestic
01658-5-3911
MAP Code
623 233 199
Maximum accommodation
645 people

MAP | car | JR | bus | Free shuttle bus | Time and Distance | Time Table for Urban Transport Bus
Access by car
●Take Monbetsu Highway (Toll free), get off at Kamikawa-Sounkyo IC. Then take Route 39 for the hotel. Approx. 25 min.

●From Sapporo, take Hokkaido Expwy. Approx. 2.5 hrs.

●From New Chitose Airport Approx. 4 hrs.

●From Asahikawa Airport Approx. 1.5 hrs.

●From Obihiro Airport (Take Route 241, 273) Approx. 2.5 hrs.

●From Nemuro (via Kushiro, Obihiro, or Kitami) Approx. 6 hrs.

●<From Abashiri, Kitami (shortest route)>Route 39→Roadside station Onne-Yu Onsen→Sekihoku Pass→Hotel

●<From Kushiro City (shortest route)>Route 38→take Route 392 in Shiranuka-cho→Route 274→
 take Route 242 in Honbetsu-cho→take Route 241 in Ashoro-cho →take Route 273 in Kami-Shihoro-cho→Mikuni Pass →
 Route 39→Hotel

●<From Obihiro City (shortest route)>Route 241 →Roadside station Pia 21 Shihoro →take Route 273 in Kami-Shihoro-cho →
 Mikuni Pass →Route 39 →Hotel
Access by JR train
●Take a limited express of JR Hakodate Line at JR Sapporo Station and get off at JR Asahikawa Station. Approx. 1 hr 20 min.
 Change to JR Sekihoku Line at JR Asahikawa Station and get off at JR Kamikawa Station. Approx. 1 hr 20 min.
 by local train and 45 min. by limited express.

●Take a taxi or bus at JR Kamikawa Station to the hotel. Approx. 25 min. ※Take Dohoku Bus Sounkyo-Kamikawa Line for bus use.
Access by bus
●Take Dohoku Bus Sounkyo-Kamikawa Line at JR Asahikawa Station, and get off at Sounkyo Bus stop. Approx. 2 hrs. plus 10 min.
 walk to the hotel from the bus stop.
Free shuttle bus service
Method for reserving shuttle bus seats
*The shuttle bus from Asahikawa will be suspended from April 1, 2023 to October 31, 2023.
Please make a call to hotel directly when you need shuttle bus seats. (TEL:81-1658-5-3911)
・Reservation Center will open 10:00~17:00
When we have been reserved all of our shuttle bus seats from our guest, we might refuse your offer.
We will recommend to contact us early if you need it.
Thank you for your understanding.
Shuttle bus time table
【2023/8/1~2023/12/31】
【

Sapporo

to Sounkyo】
Pick-up Bus
(Leaving from JR Sapporo Station)
Departure Time
JR Sapporo Station
12:00
Sunagawa Service Area rest
Choyo resort
15:30~16:00(arrival)
Choyotei
15:40~16:10(arrival)
Sending-off Bus
(Leaving from Choyotei)

| | Departure Time |
| --- | --- |
| Choyotei | 10:00 |
| Choyo resort | 10:10 |
| JR Sapporo Station | 13:30(arrival) |
Meeting Place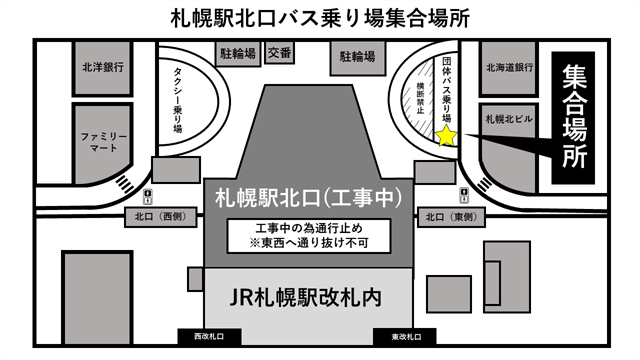 The group bus stop at the North Exit of JR Sapporo Station
Reception will begin 15 minutes prior to bus departure.
NOTICE
Please come to the meeting place15 min. prior to departure.
Please note that there may be no vacancy, or may be available with fares.
Due to weather conditions, etc., service may be canceled or delayed.
Please note that both we and the bus operation company will be no responsible for the loss of your luggage and personal belongings.
Time and Distance 
| Main Station | Distance | Time |
| --- | --- | --- |
| Asahikawa | 74km | 1.5 hrs. |
| Sapporo | 204km | 4 hrs. 20 min. |
| Kitami | 95km | 2 hrs. 10 min. |
| Furano | 128km | 3 hrs. |
| Obihiro | 132km | 2 hrs. 50 min. |
| Abashiri | 152km | 3.5 hrs. |
| Kushiro | 230km | 5 hrs. 50 min. |
| Otaru | 246km | 5 hrs. |
| Wakkanai | 260km | 5 hrs. 10 min. |
| Hakodate | 499km | 6 hrs. 36 min. |
| Main Airport | Distance | Time |
| Asahikawa Airport | 81km | 1 hr 40 min. |
| New Chitose Airport | 243km | 5 hrs. |
Time Table for Urban Transport Bus   

Dohoku-Bus 800 JPY one-way in service by Nov. 10, 2011
| | | | | | | | |
| --- | --- | --- | --- | --- | --- | --- | --- |
| Dpt. Kamikawa Station | 12:05 | 13:35 | 15:00 | 15:55 | 17:05 | 17:55 | 20:00 |
| Arv. Sounkyo | 12:35 | 14:05 | 15:30 | 16:25 | 17:35 | 18:25 | 20:30 |

Sekihoku-Go 2,500 JPY one-way / 4,700 JPY round-trip
| | | |
| --- | --- | --- |
| Dpt. Kitami Station | 14:15 | 16:15 |
| Arv. Sounkyo | 16:12 | 18:12 |

Sunrise Asahikawa, Kushiro-Go 4,790 JPY one-way / 9,580 JPY round-trip
| | | |
| --- | --- | --- |
| Dpt. Kushiro Station | 8:03 | 15:33 |
| Arv. Sounkyo | 13:03 | 20:35 |

North Liner 2,200 JPY one-way / 4,400 JPY round-trip
| | |
| --- | --- |
| Dpt. Obihiro Station | 14:30 |
| Arv. Sounkyo | 16:43 |